Hosts
Guy Fieri (NBC Version)
Apolo Anton Ohno (GSN Version)
Announcer
Tom Kane
Broadcast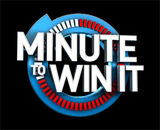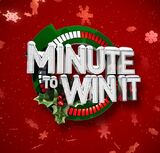 NBC: 3/14/2010 - 8/24/2011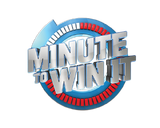 GSN: 6/25/2013 - 4/29/2014
Packagers (NBC)
Friday TV
Smart Dog Media
Universal Media Studios
Packagers (GSN)
Friday TV
Revelle Entertainment
Shine Media
Minute to Win It is a game show where people compete in seemingly easy stunts to win one million dollars. They can include pulling all the tissues out of a box with one hand, stacking golf balls, and other crazy stunts.
Minute To Win It was originally created since 2003 by Derek Banner and his Copenhagen based production company BUMP Productions - Banner Universal Motion Pictures LLC, with the original title of Minute Winner - You got one minute to win it. The draft format of the game show was then in November 2005 presented to the Swedish format company Friday TV, who further developed it in 2007 and licensed it to NBC in 2009.
The contestant is presented with the blueprint for the first game and must successfully complete a game within one minute/60 seconds to win $1,000 and advance to the next level. After successfully completing the first, fifth, eighth, and recently ninth level games, the contestant is guaranteed to leave with no less than the cash award for those levels.
The difficulty of the games progressively increase throughout the show. If time expires or the conditions of the game cannot be fulfilled (such as by the contestant exhausting any allotted attempts or committing a foul), the contestant loses a "life". If the contestant loses all three of their "lives", the game ends and the contestant's winnings drop to the previous milestone they passed.
After successfully completing a game, the contestant can leave with the amount of money already won before seeing the blueprint for the next game. However, once the contestant elects for the game, the contestant cannot leave the show until that game is complete or they have exhausted all three of their "lives".
| Game | Value |
| --- | --- |
| 1 | $1,000 |
| 2 | $2,500 |
| 3 | $5,000 |
| 4 | $10,000 |
| 5 | $50,000 |
| 6 | $75,000 |
| 7 | $125,000 |
| 8 | $250,000 |
| 9 | $500,000 |
| 10 | $1,000,000 |
In the first part of season one, $50,000 was the only milestone; players who were eliminated from the game before completing the level five game left with nothing. The milestones at $1,000 and $250,000 were added in the second part of that season. Then, partway through season two, a milestone at $500,000 was added.
In episodes featuring celebrity contestants competing for charities, all levels are milestones, so they get all the money up to their last successful level.[1]
In episodes featuring teams of two contestants, some games are played by both players, while others are played solo. A player can only make three consecutive attempts at solo games (including re-attempts following losing a life; an intervening team game does not reset this count). After a player makes three attempts, the other player is forced to attempt the next solo game.
In Christmas episodes, 2 extra games are added for "the 12 games of Minute to Win It": the 11th game is worth $2,000,000 and the 12th is worth $3,000,000. Both are milestones. Also in Christmas episodes, some games contain a "Holiday Bonus," in which a contestant wins a gift if the level is passed. A visual representation of the gift is placed inside of a box, which is opened if and when the level is completed. The gifts include:
An extra life: Contestants who received this "gift" can have more than the basic three lives.
Extra 10 seconds: Contestants who received this "gift" can add an extra 10 seconds (or, in the case of a survival game, subtract 10 seconds) to any game, including after a re-attempt following a failure.
Prize: Contestants who received this gift won a bonus prize.
Some season two episodes feature similar bonuses known as a "Blueprint Bonus." However, the bonus is shown on a large monitor, and it is shown before the blueprint and before the game is played. So far, the only bonuses won by contestants have been the extra life and extra ten seconds. When a contestant decides to use the extra ten seconds, a special 70 second clock is used, or if the contestant is playing a survival game (like Keep it Up, Defying Gravity, High as a Kite, Uphill Battle, etc.) the clock is reduced to 50 seconds. In addition, the outer floor lights of the 60-second circle do not turn red for the first ten seconds. For the survival games, the first ten lights are already red.
This summer, GSN, the network for games has aired a new version of Minute to Win It. Apolo Anton Ohno has been named the new host. The new grand cash prize for GSN's version is $250,000.
The timer was reused from the NBC game show from the last season.
| Game | Value |
| --- | --- |
| 1 | $1,000 |
| 2 | $2,000 |
| 3 | $3,000 |
| 4 | $5,000 |
| 5 | $10,000 |
| 6 | $15,000 |
| 7 | $25,000 |
| 8 | $50,000 |
| 9 | $100,000 |
| 10 | $250,000 |
The GSN run retains nearly all the elements of the NBC run, barring the theme song, reduced money amounts, host, and the fact it now tapes in New York, as well as the fact that teams play from now on.
Apolo Anto Ohno's catchphrase "You got a minute to Win It! Every...Second...Counts!" is a reference to the short-lived 1984-1985 Bill Rafferty hosted syndicated game show of the same name.
Here are two clips of the GSN version.
GSN Version
Edit
"Get Up" by Eve Nelson (NBC)
Merchandise
Edit
Video Game versions for Wii, Xbox 360 Kinect, and Nintendo DS
A Scratch-off lottery game
iOS Game versions for the iPhone and iPad
Spin-Offs
Edit
Minuto Para Ganar - Spanish version airing on MundoFox in 2012
International Versions
Edit
Here is a list of countries that have Minute to Win It in their countries:
Country
Title
Host
Network
Top Prize
First Airdate
Albania
Kape Kohën
Gentian Hazizaj
Top Channel
TBA
October 7, 2012

Arab World[2]

للزمن ثمن
lezaman Thaman
Abdallah El Tuleihi
MBC 1
SR1,000,000
April 5, 2011
Argentina
Minuto para ganar
Marley
Telefe
AR$1,000,000
July 17, 2011

Armenia[4]

Հաղթեք Րոպեում
Haxteq Ropeum
TBA
Armenia TV
10,000,000 dram
May 27, 2012

Australia[5]

Minute to Win It
Darren McMullen
Seven Network
A$1,000,000
June 22, 2010
Belgium
Binnen De Minuut (Dutch)[6]
Staf Coppens
vtm
€100,000
January 8, 2011

60 secondes chrono (French)[7]

Jean-Michel Zecca
RTL TVI
€100,000
September 5, 2011

Brazil[8]

Nada Além de um Minuto[9]

Silvio Santos
SBT
R$1,000,000
April 17, 2010

Chile[10]

Un minuto para ganar
Julián Elfenbein
TVN
CL$30.000.000
May 21, 2011
China
步步惊心
Minute To Win It China
TBA
Dragon TV
CN¥TBA
Upcoming series (2013)

Colombia[11]

Un minuto para ganar
Silvestre Dangond
Caracol TV
CO$300.000.000
November 1, 2010

Costa Rica[12]

Minuto Para Ganar
Mauricio Astorga
Teletica
₡25,000,000.00
March 8, 2011

Czech Republic[13]

Máš minutu
Richard Genzer & Michal Suchánek
TV Prima
Kč 1,000,000
April 10, 2011

Denmark[14]

Det perfekte minut
Robert Hansen
TV3
250,000Kr
August 17, 2011

Ecuador[15]

Minuto Para Ganar
Yuly Maiocchi
Gama TV
US$50,000
August 7, 2011
Finland
Minuuttipeliä
Marko Keränen
MTV3
€30,000
March 21, 2011

France[17]

60 secondes chrono
Alex Goude
M6
€100,000
July 12, 2012

Germany[18]

Die perfekte Minute
Ulla Kock am Brink
Sat.1
€250,000
April 30, 2010

Greece[19]

Minute to Win It
Dimitris Hungarezos
Mega TV
€50,000
March 3, 2012
Hong Kong
決戰一分鐘
Minute to Win It

Hacken Lee
TVB
HK$1,000,000
November 25, 2012

Hungary[20]

1 perc és nyersz!
Sebestyén Balázs
RTL Klub
10,000,000 Ft
February 27, 2012
India

India's Minute To Win It (Hindi)[21]

Gaurav Kapoor
AXN
10,000,000 rupees
January 12, 2011

Home Sweet Home (Tamil)[22]

Divyadarshini (D.D) and Deepak
STAR Vijay
A home worth 2,000,000 rupees[23]
March 4, 2011[23]

Israel[24]

אליפות ישראל בדקה
Alifut Israel be Dakah
Ido Rosenblum
Channel 2 (Keshet)
₪ 1,000,000
October 26, 2011

Italy[25]

Un Minuto per Vincere
Max Giusti (Season 1)
Rai Uno
€500,000
September 4, 2011
Nicola Savino (Season 2)
Rai Due
November 22, 2012

Kazakhstan[26]

Минута на победу
Minuta na pobedu
Rinat Safargulov
NTK
1,000,000 tenge
May 19, 2012
Malaysia

Anda Ada 60 Saat[27] (Malay)

Ahmad Nabil
Astro Warna – New Episode
Astro Ria – Repeat
RM500,000
December 25, 2010
Oru nimiṭam (Tamil)
Anandha
Astro Vaanavil
RM500,000
December 2010

Mexico[28]

Un minuto para ganar
Penélope Menchaca
Televisa
TBA
2012

Netherlands[29]

Minute to Win It
Gordon Heuckeroth
RTL 4
€100,000
January 8, 2011

Norway[30]

Vinn på minuttet
Carsten Skjelbreid
TV2
1,000,000Kr
March 20, 2011

Peru[31]

Minuto para ganar
Johanna San Miguel (Season 1)
América Televisión
S/.100,000
January 15, 2011
Magdyel Ugaz (Season 2)
Philippines
Minute to Win It
Luis Manzano
ABS-CBN
₱1,000,000
January 14, 2013

Poland[32]

Milion w minutę
Marcin Prokop
TVN
1,000,000 zł
September 5, 2011

Portugal[33]

Ganha num Minuto
Marco Horácio
SIC
€20,000
January 8, 2012

Romania[34]

Câștigi în 60 de secunde
Dan Negru
Antena 1
50,000Lei
April 5, 2011

Russia[35]

Минутное дело
Minutnoe delo
Timur Rodrigez
Russia 1
1,000,000руб
November 17, 2012

Serbia[36]

Savršen minut
Srđan Karanović
Prva
1,000,000 RSD
March 17, 2012

Slovenia[37]

Minuta do zmage
Bojan Emeršič
POP TV
€100,000
March 18, 2011

South Korea[38]

사소한 도전 60초
Sasohan Dojeon 60-cho
Oh Sang-jin (오상진)
MBC
₩20,000,000
June 12, 2011

Spain[39]

Uno para ganar
Jesús Vázquez
Cuatro
€500,000
July 4, 2011

Sri Lanka[40]

Home Game in 60 second
Niroshan Wijesinghe
Sirasa TV
Rs.1.000.000
October 26, 2010

Sweden[41]

Minuten
Peter Settman (Season 1)
SVT
250,000kr
December 26, 2010
Malin Olsson (Season 2)
February 24, 2012

Turkey[42]

Kazanmak için 1 Dakika
Ertem Şener (Season 1)
Kanal D
500,000 lira
January 6, 2012
Zuhal Topal (Season 2)
November 20, 2012
United Kingdom
Minute to Win It
Darren McMullen
ITV2
₤]30,000
August 30, 2011
United States
Minute to Win It (English)
Guy Fieri
NBC
US$1,000,000
March 14, 2010
Minute to Win It (English)
Apolo Anton Ohno
GSN
US$250,000
June 25, 2013
Minuto para ganar (Spanish)
Marco Antonio Regil
MundoFox
US$100,000
August 13, 2012
Ukraine
Хвилина для перемоги
Chvylyna dlya peremogy
Maksim Averin
Ukrayina
₴500,000
October 16, 2011

Uruguay[43]

Minuto para ganar
Álvaro Navia
Eunice Castro
Juanchi Hounie
Teledoce
UY$250,000
September 5, 2010

Venezuela[44]

Un Minuto para ganar
Nelson Bustamante
Televen
Bs.100,000
July 12, 2012

Vietnam[45]

Một phút để chiến thắng
Nguyên Vũ
HTV7
1,000,000,000₫
May 27, 2012
Catchphrases
Edit
Guy Fieri/Apolo Anton Ohno
Edit
"For (insert amount) Let's take a look at/Here is your Level (insert number) Blueprint!" - Guy Fieri/Apolo Anton Ohno 
"You've got a Minute To Win It!" - Guy Fieri
"You've got a Minute To Win It, every...second...counts!" - Apolo Anton Ohno
"Are you ready for more or headed to the door?" - Apolo Anton Ohno
Female British Computer Voice
Edit
"Failure to complete this task in 60 seconds may/will result in elimination!"
"The game begins in 3...2...1 (HONK!)"
"Level (insert number) complete, (insert amount)!"
"Level (insert number) failed, you have (insert number) lives/life remaining!"
"Game Over, congratulations you have won (insert amount)!" - from early episodes
"Your game is over. congratulations, you have won (insert amount)!"
Reference
Edit
BUMP Productions Minute To Win It official site
Official Site
Press Photos