Mind of a Man
Talk

0
2,531pages on
this wiki
Host
DeRay Davis
Broadcast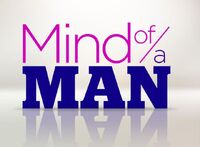 GSN: 1/8/2014-present
Packager
Never Nominated Productions
51 Minds Entertainment
Mind of a Man is a game show in which two female contestants, with the help of a celebrity panel, will attempt to figure out what men believe about marriage, dating, work and other subjects by answering survey questions that were posed to 100 men.
Similar to Family Feud, the questions will have previously been answered by a survey of 100 men. Over the course of three rounds, the contestants will try to determine the correct answers with the help of the celebrities who will offer their opinions about what men are really thinking. The successful contestant could walk away with the grand prize.
Catchphrase
Edit
"Here's how the game works: We asked 100 men a series of multiple choice questions. It's your job to try to figure out what they're thinking, and celebrities will help you out the ability to figure out the number one answer was. You can listen to them, or you ain't gonna listen to them.
TV-14