Host
Ralph Story
Taped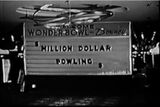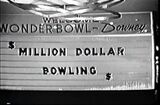 Unsold Pilot: 1961
Packager
Ralph Andrews Productions/Trojan Productions
"This strike could be worth $25,000! This strike could be worth $256,000! Or this strike could be worth the largest amount of money ever won on television, $1,000,000! Tonight, from the world-famous Wonder Bowl, we bring you television's biggest prize money bowling show. Every week, we'll be showing you America's champion men and women bowlers, in TV's only mixed doubles competition, MILLION DOLLAR BOWLING! They'll be competing in matches that could take them to $256,000! Or to the unprecedented sum of $1,000,000! For this is Million Dollar Bowling! And now, our master of the bowling lanes, Ralph Story!"
Million Dollar Bowling was an unsold game show pilot.
YouTube Video
Edit
Ad blocker interference detected!
Wikia is a free-to-use site that makes money from advertising. We have a modified experience for viewers using ad blockers

Wikia is not accessible if you've made further modifications. Remove the custom ad blocker rule(s) and the page will load as expected.