Host
Mike Stokey
Announcers
Art Fleming
Art Gilmore
Bill Baldwin
Charles Woods
Don Morrow
Don Russell
Ed Reimers
Ken Niles
Jimmy Blaine
Terry O' Sullivan
Broadcast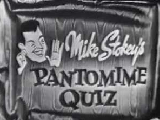 KTLA: 11/13/1947 - 6/30/1950
CBS Primetime: 7/3/1950 - 9/25/1950, 7/2/1951 - 8/20/1951, 7/4/1952 - 9/26/1952, 7/10/1953 - 8/28/1953, 7/9/1954 - 8/27/1954, 7/8/1955 - 9/30/1955, 7/6/1956 - 9/7/1956, 7/5/1957 - 9/6/1957
NBC Primetime: 1/2/1952 - 3/26/1952
DuMont Primetime: 10/20/1953 - 4/13/1954
ABC Primetime: 1/22/1955 - 3/6/1955, 4/8/1958 - 9/2/1958, 6/8/1959 - 9/28/1959
ABC Daytime: 5/18/1959 - 10/9/1959
Packager
Mike Stokey Productions
Mike Stokey's Pantomime Quiz was the first game show to be based on the parlor game Charades; it gave life to a few other game shows using this type of format.
Two teams of four celebrities (consisting of three regulars & one guest) competed in this TV adaptation of Charades. In each round, one member of each team had at least two minutes to get his/her partners to say famous phrases, quotes & names. But he/she had to do that by acting it out (using pantomime). The team to do that in the least amount of time won the round, and the team with the fastest time for all phrases won the game.
In addition, home viewers got in on the fun by sending their won phrases to the show. The viewers whose phrases were used on the show won cash or prizes; plus the viewers whose phrases stumped the stars (phrases that were not guessed by the teams in less than two minutes) won a bonus.
Timekeepers
Edit
Sandra Spence
Virginia Dwyer
Spring Mitchell

"Huckleberry Duck" by Raymond Scott
Mike Stokey
Merchandise
Edit
Various game booklets were released since 1959. In a thin 11x7" spiral-bound game booklet featuring rules, hints and 300 "stumpers" that were actually used on the long-running charades game.
80's Flyer
Edit

Mike Stokey's Pantomime Quiz was the first TV show to earn an Emmy award.
The show was revived as Stump the Stars, and later as Celebrity Charades.
Mike Stokey's Pantomime Quiz was scheduled to be revived in the 1980s with Metromedia as the distributor, but that never occurred.
YouTube Links
Edit
Guests Elaine Stritch & Hans Conried: Part 1, Part 2, Part 3
Guest Star Vincent Price: Part 1, Part 2, Part 3
Ad blocker interference detected!
Wikia is a free-to-use site that makes money from advertising. We have a modified experience for viewers using ad blockers

Wikia is not accessible if you've made further modifications. Remove the custom ad blocker rule(s) and the page will load as expected.