Host
Spike Mendelsohn
Broadcast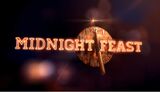 FYI Network: 10/16/2014-9/4/2015
Packager
Nerd TV
Midnight Feast was a short-lived reality competition series where New York's Chelsea Market sets the stage for a late-night culinary showdown between some of the hottest chefs in the country.
Hosted by chef, restaurateur and TV personality Spike Mendelsohn, each episode will feature three chefs who are given free rein to use any ingredient found in the famous food hall to execute judged dishes. By the end of the night, the winner walks away with a cash prize while the losers walk away paying their own tabs. With access to some of the finest ingredients in the world, each chef must weigh their desire to use the most expensive and exotic ingredients against the risk of picking up an outlandish bill.
Ad blocker interference detected!
Wikia is a free-to-use site that makes money from advertising. We have a modified experience for viewers using ad blockers

Wikia is not accessible if you've made further modifications. Remove the custom ad blocker rule(s) and the page will load as expected.