Hosts
Chuck Gaidica
Jim Harper (sub)
Hostess
Aggie Usedly
Broadcast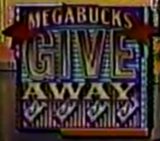 WDIV 4 (Weekly): 4/13/1991 - 9/7/1996
Packager
Michigan Lottery
Megabucks Giveaway was a game show that aired on Michigan's WDIV-TV from 1991 until 1996. It was developed by the Michigan Lottery. Chief Meteorologist Chuck Gaidica from WDIV returns as your host while Diane Sarnecky was replaced by Michigan Lottery Hostess Aggie Usedly. Also on board was Jim Harper, who occasionally substituted for Gaidica.
Megabucks Giveaway was an updated version of the Michigan Lottery's previous game show, Fame & Fortune, with a few new elements.
One of the newest elements added was a BONUS card hiding behind one of the letters on the FORTUNE wall, if one of the contestants uncovers it, he or she were granted an extra shot at picking one of four keys to unlock the safe that contained $50,000 in the end game (if they become the overall winner). Contestants could win up to two bonus cards meaning they could have 3 chances to crack open the safe.
At the end of the game, the contestant who winds up with the most money wins an automatic $5,000 and an opportunity to unlock the safe that contained a check for $50,000.
The contestant who won would automatically have one chance to crack open the safe by picking one of four color-coded keys (1: Red, 2: Green, 3: Blue, 4: Orange) and if he or she chooses the key that unlocks the safe and wins the $50,000, but if they pick the wrong key, they only win the automatic $5,000. However, if the contestant picks a wrong key and he or she has one or two bonus cards, they were granted one or two extra chances to cracking open the safe for the $50,000.
Draw for Next Week
Edit
Contestants were chosen by submitting their non-winning instant win tickets and at the end of the show, Chuck and Aggie would read off the names of the six upcoming contestants chosen from an off-camera random drawing and those six contestants would appear on the show the following week.
The final episode aired on September 14, 1996 and was replaced with Road to Riches the following week.
YouTube Videos
Edit
A partial episode from February 22, 1992 (begins shortly before final round):
Part 1
Part 2
Ad blocker interference detected!
Wikia is a free-to-use site that makes money from advertising. We have a modified experience for viewers using ad blockers

Wikia is not accessible if you've made further modifications. Remove the custom ad blocker rule(s) and the page will load as expected.