Broadcast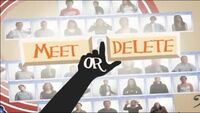 MTV: 2006-2007
Packager
MTV Networks
Meet or Delete was a short-lived reality dating show aimed at college students that hooks people up.
Students are given access to a potential mate's computer hard drive, and based on their e-mails, IMs (Instant Messages), files and website history they will decide if they should meet in person.
Ad blocker interference detected!
Wikia is a free-to-use site that makes money from advertising. We have a modified experience for viewers using ad blockers

Wikia is not accessible if you've made further modifications. Remove the custom ad blocker rule(s) and the page will load as expected.