Host
Mati Moralejo
Broadcast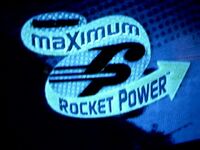 Nickelodeon/Nick GAS: 03/26/2002
Packager
Broadway Video Productions
Distributors
Nickelodeon Productions
Nick GAS Productions
In this real-life reenactment of the hit cartoon series Rocket Power, three teams of 4 extreme kids (a.k.a. "groms") and 2 extreme sports pros duke it out in 3 extreme sports events.
A spinoff of the Nickelodeon show Rocket Power

Infopage on The Maximum Rocket Power Games
YouTube Video
Edit
Ad blocker interference detected!
Wikia is a free-to-use site that makes money from advertising. We have a modified experience for viewers using ad blockers

Wikia is not accessible if you've made further modifications. Remove the custom ad blocker rule(s) and the page will load as expected.