Host
Sean Valentine
Broadcast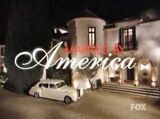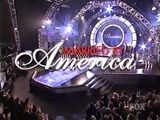 FOX: 3/3/2003 – 4/14/2003
Packager
Rocket Science Laboratories
Married by America was a reality show where a variety of contestants were introduced on the air, then viewers could call in and vote for certain candidates.
The top male and female vote-getters could then be married on live television, and in the weeks before, were sequestered within a hotel and resort to learn more about each other before the upcoming ceremony, which was shown to viewers. In the end, none of the couples got married. An "Entertainment Week" article in August 2008 revealed that Billie Jean Houle, who was one of the final 2 couples but was left heartbroken when Tony decided he couldn't marry her, is now married in real life.

This show was regarded as controversial and was not available on all FOX affiliates.
Broadcast
Edit
Ad blocker interference detected!
Wikia is a free-to-use site that makes money from advertising. We have a modified experience for viewers using ad blockers

Wikia is not accessible if you've made further modifications. Remove the custom ad blocker rule(s) and the page will load as expected.