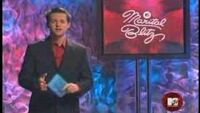 Inspired by classic game show The Newlywed Game, four celebrity couples competed in this hour-long Valentine's Day Special for MTV.
Broadcast
Edit
MTV 2004
Damien Fahey
Four celebrity Couples Carmen Electra & Dave Navarro, April & Phil Mergera, Brynn & Austin and Charlie & Sabrina competed in this hour-long special where the winning couple will prove that they know their partner best and will win prizes for their section of the audience.
Youtube Link
Edit
Ad blocker interference detected!
Wikia is a free-to-use site that makes money from advertising. We have a modified experience for viewers using ad blockers

Wikia is not accessible if you've made further modifications. Remove the custom ad blocker rule(s) and the page will load as expected.