Host
DeRay Davis
Broadcast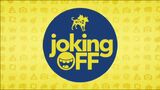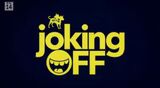 MTV2: 4/1/2015-2/24/2016

MTV: 8/4/2016-present
Packagers
Back Roads Entertainment
Canter-Krask Industries
MTV2's Joking Off (then later as MTV's Joking Off in Season 3) is an hilarious, half-hour, comedic game show where teams of jokesters test their improv skills against the wildest social media memes, tweets, Instagram images and videos to deliver laugh out loud reactions and out-joke the competition.
The show featuring teams of rising young comedians, the hilarious, fast-paced, half-hour comedic game show celebrates the best of social media and the Internet, delivering laugh out loud reactions to the most ridiculous tweets, Instagram images, videos and write-ups ever posted. The teams must avoid getting joked-off before one comedian reigns supreme.
Ad blocker interference detected!
Wikia is a free-to-use site that makes money from advertising. We have a modified experience for viewers using ad blockers

Wikia is not accessible if you've made further modifications. Remove the custom ad blocker rule(s) and the page will load as expected.