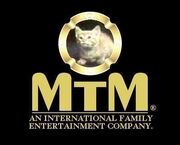 MTM Enterprises was an American television production company founded by actress Mary Tyler Moore (1936-2017) and her ex-husband Grant Tinker. It is often considered a parody of the film company MGM because a kitten named Mimsie is used instead of Leo the Lion. (Another difference is that the cat is meowing instead of roaring.) The company was sold to TVS Entertainment (An Entertainment subsidry of TVS, an ITV Region) in 1989 and when TVS Lost their license the TVS Entertainment Libary was sold to International Family Entertainment in 1992 (Look at the logo), then the company itself was sold to News Corpration in 1996 and MTM was folded into 20th Century Fox Television in 1998.
Shows Produced
Edit
Xuxa (Syndicated 1993, Family Channel 1994-1996)
Wild Animal Games (Family Channel 1995-1996)
Shopping Spree (Family Channel 1996-1998)
Wait 'Til You Have Kids! (Family Channel 1996-1997)
It Takes Two (Family Channel 1997)
Family Challenge (Family Channel 1995-1997)

Xuxa- Mimsie says "Ciao!" using the Brazilian singer's voice
Ad blocker interference detected!
Wikia is a free-to-use site that makes money from advertising. We have a modified experience for viewers using ad blockers

Wikia is not accessible if you've made further modifications. Remove the custom ad blocker rule(s) and the page will load as expected.