Host
Wendy Williams
Broadcast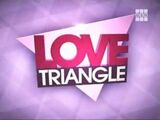 GSN: 4/11/2011-8/28/2011
Packager
3 Ball Productions
Love Triangle was a short-lived original dating game show hosted by talk show hostess Wendy Williams.
The show features people caught in real-life love triangles featuring a dater along with his or her two suitors with the suitors often having vastly different lifestyles and personalities. The episode begins by discussing secrets' of each of the suitors' past. The suitors then take a personality test to see how compatible they are, especially in the subjects of lifestyle, money and sex. The dater then asks his or her suitors questions which they must answer while hooked up to a lie detector (nicknamed "The Truthbuster") The dater is shown what the future will hold with each of his or her suitors, including their financial situations and what the child might look like, before deciding who to keep and who to let go. The dater and his or her choice win a vacation as a grand prize.
Ad blocker interference detected!
Wikia is a free-to-use site that makes money from advertising. We have a modified experience for viewers using ad blockers

Wikia is not accessible if you've made further modifications. Remove the custom ad blocker rule(s) and the page will load as expected.