Host
Scott Feldman
Broadcast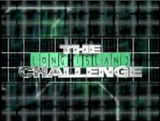 News Channel 12: 2008
The Long Island Challenge was a quiz bowl for the Long Island area of New York. Winners played against the winners of Connecticut Challenge and New Jersey Challenge.
In round 1, Feldman reads off questions in a category, such as calculus and reads off multiple choice answers. Making everyone on the team hit buzzers to answer the question.
In round 2, in a "head-to-head" where the team captains stand in the middle and try to buzz in after hearing a verbal clue a la Family Feud.
In the "Lightning Round" where the lower scoring team picks one of two categories and tries to answer as many as they can in 60 seconds. The other team gets the other.
In the last round, where point values are doubled and their penalized for being incorrect. Winners move up to the next step in the ladder match.
YouTube Video
Edit
Ad blocker interference detected!
Wikia is a free-to-use site that makes money from advertising. We have a modified experience for viewers using ad blockers

Wikia is not accessible if you've made further modifications. Remove the custom ad blocker rule(s) and the page will load as expected.