Host
Rove McManus
Broadcast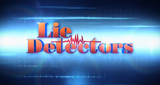 GSN: 4/20/2015 - 5/27/2015
Packager
The Jim Company
Lie Detectors is a comedy panel game show where members of the studio audience have a chance to win prize money if they can decide which one of the three comedians is telling the truth.
In each episode, a panel of three comedians present outrageous facts, but only one of them is telling the truth. It's up to the audience to determine which comedians are lying and vote on which fact they think is true. The audience member who guesses the most correct answers in the fastest time wins $1,000 and earns a chance to play in the final round to increase that money to $5,000.
On April 27, 2015 GSN removed the show from it's 6:30 pm weekday slot in favor of reruns of Family Feud. However, the remaining episodes of the show will continue to air on Wednesday Nights at 9:00 pm and Saturday Nights at 11:00-11:30 pm.
Ad blocker interference detected!
Wikia is a free-to-use site that makes money from advertising. We have a modified experience for viewers using ad blockers

Wikia is not accessible if you've made further modifications. Remove the custom ad blocker rule(s) and the page will load as expected.