Host/Announcer
Gary Owens
Broadcast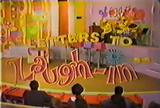 NBC Daytime: 9/29/1969 – 12/26/1969
Packager
George Schlatter-Ed Friendly Productions
"It's Letters To Laugh-In (insert three comedians and their written jokes submitted by viewers). And here's your host, a man who has London at his feet, New York at his feet, Chicago at his feet, he may have very little talent, but he has big feet. And now, a man whose charm and sophistication is only exceeded by his loveliness, Gary Owens!"
Letters To Laugh-In was a short-lived daytime game show where the stars from the popular sketch comedy show Laugh-In would read letters sent in by fans.
Home viewers mail their jokes to the program, during which they are read by a panel of four celebrities—two of them Laugh-In regulars. Each joke was rated on a scale of zero to 100. The highest-rated joke on that day's program won a nice prize (such as a trip to Hawaii), while the lowest-rated joke won a trip to "beautiful downtown Burbank".
A spinoff based on Rowan and Martin's Laugh-In by Dan Rowan and Dick Martin.
Laugh-In Fansite (via Internet Archive)
YouTube Videos
Edit
A full episode from September 30, 1969
Opening credits of the above episode
Ad blocker interference detected!
Wikia is a free-to-use site that makes money from advertising. We have a modified experience for viewers using ad blockers

Wikia is not accessible if you've made further modifications. Remove the custom ad blocker rule(s) and the page will load as expected.