Hosts
Steve "Chopper" Sedahl (himself)
Wally Hotvedt (Rich Kronfeld)
Queen Pins
Amanda Brewer
Lisa Bartholomew
Broadcast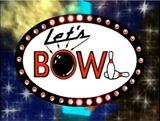 Syndicated: (Minneapolis-St. Paul area) 1995
Comedy Central: 2001-2002
Packager
The Scott-Kronfeld Experience
Let's Bowl was originally a local show on Minnesota where people would settle a conflict through a game of bowling. The regular rules apply except the players were allowed one distraction per game. The distraction usually was an air horn or some other loud noise device. The show was made national for a short run on Comedy Central.
This program never emphasized too much on the game but had more direction towards interviews so only about 5 frames of each game were shown.
Tim Scott
YouTube Links
Edit
Ad blocker interference detected!
Wikia is a free-to-use site that makes money from advertising. We have a modified experience for viewers using ad blockers

Wikia is not accessible if you've made further modifications. Remove the custom ad blocker rule(s) and the page will load as expected.