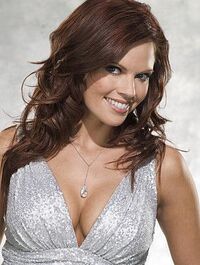 Krissy Carlson (born August 10, 1979) is a Southern California native American actress & model.
Krissy Carlson's acting career began after High School, Carlson landed a contract role Aaron Spelling's NBC daytime soap opera Sunset Beach as the character Amy Neilson. Carlson's role on Sunset Beach led to numerous guest apperances on television shows including Buffy: The Vampire Slayer and Ellen, as well as leading roles in feature films such as Behind the Mask: The Rise of Leslie Vernon.
Yet there is more to Krissy Carlson than acting and modeling. Born and raised as a dancer, Carlson has danced for professional sports teams such as the NBA and the XFL, where she was voted as "Favorite Cheerleader" by XFL fans. Futhermore Carlson's beauty is surpassed by her wit and intelligence. with a bacherlor's of Science in Communications for the University of Portland already under her belt, Carlson is currently working on obtaining her MBA.
Krissy Carlson was one of the Deal or No Deal models in season three holding Briefcase #16 to replace Kasie Head. Krissy Carlson left in the middle of season three to focus on her role as a Banker Babe and was being replaced by Lisa Lakatos.
In addition, Carlson also balances a full-time corporate career as an account manager for a worldwide communications firm. In her spare time, Carlson likes to snowboard, paint, cook, travel, discuss politics and surf.
Carlson describes herself as adventurous, passionate, ambitious and creative. Some people are just born with glitter in their veins.
Show appeared
Edit
Ad blocker interference detected!
Wikia is a free-to-use site that makes money from advertising. We have a modified experience for viewers using ad blockers

Wikia is not accessible if you've made further modifications. Remove the custom ad blocker rule(s) and the page will load as expected.