Host
Ilan Hall
Judges
Drew Barrymore
Elijah Wood
Jason Lee
Bijou Philips
Erika Christensen
Broadcast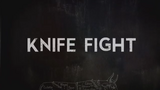 Esquire Network: 9/24/2013-12/29/2015
Packagers
Flower Films
Authentic Entertainment
Knife Fight is an underground reality cooking competition show where chefs go head-to-head before a rowdy crowd of celebrities, critics and die-hard foodies.
Two chefs go head-to-head, making at least two dishes in one hour from a combination of secret ingredients. In each match-up, chefs feel the heat as they're cheered and heckled by a rowdy crowd - including celebrites, food professionals and die-hard foodies who serves as judges and timekeepers, such as Drew Barrymore, Elijah Wood, Jason Lee, Bijou Phillips, Erika Christensen and more.
Host Ilan Hall was the winner of second season of Bravo's Top Chef.
Actress Drew Barrymore is the executive producer of the series.
Former Top Chef contestant CJ Jacobson revealed on his podcast that Knife Fight was originally going to be called Food Fight Club after the 1999 David Fincher film Fight Club.
G4 was originally slated to be replaced by the new Esquire Network, but in a surprising turn of events, NBCUniversal has chosen Style Network as a new candidate.
Knife Fight is the first reality competition series for Esquire Network.