Host
Justin Willman
Broadcast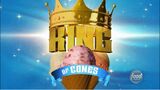 Food Network: 8/4/2014-8/25/2014
Packager
Intuitive Entertainment
King of Cones is an upcoming special four-part stunt as top-level dessert chefs are challenged to use their skills, creativity and ingenuity to make the most incredible ice cream treats imaginable.
Each episode, a giant ice cream truck arrives with a new theme and mystery ingredient that the contestants must translate into a unique delicious ice cream dessert before time runs out. Contestant must survive three heart-pounding challenges that would leave any top dessert professional screaming over ice cream, with a rotation panel of judges including: Duff Goldman (Ace of Cakes), Doug Quint, Zac Young, Nancy Silverton, Johnny Iuzzini, Paulette Goto, Natasha Case, and John Harrison (the head judge) determining who advances in each round and scoops up the grand prize of $10,000. In the end, only one will be named the first-ever "King of Cones"!
Ad blocker interference detected!
Wikia is a free-to-use site that makes money from advertising. We have a modified experience for viewers using ad blockers

Wikia is not accessible if you've made further modifications. Remove the custom ad blocker rule(s) and the page will load as expected.