Hosts
Bob Sokoler
Bob Callahan
Broadcast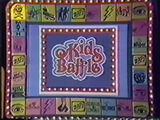 WJZ-TV 13: 1981-1987
Kids Baffle was a weekend kids game show in Baltimore, Maryland. It was classified as It's Academic for younger people.
Two teams of kids from local schools compete in a Q & A game played on a category game board which resembles Second Chance and the future Press Your Luck.
YouTube Link
Edit
Ad blocker interference detected!
Wikia is a free-to-use site that makes money from advertising. We have a modified experience for viewers using ad blockers

Wikia is not accessible if you've made further modifications. Remove the custom ad blocker rule(s) and the page will load as expected.