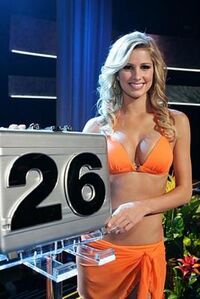 Kendhal Beal (born Kendhal Diane Beal on May 15, 1986 in Houston, Texas) is a former case model on Deal or no Deal and actress.
Controversy
Edit
In 2009, Paris Hilton reportedly got into a confrontation with Beal after seeing her former ex-boyfriend Doug Reinhardt flirting with her. This caused Hilton to throw pieces of fruit and ice at her.
Show appeared
Edit
Ad blocker interference detected!
Wikia is a free-to-use site that makes money from advertising. We have a modified experience for viewers using ad blockers

Wikia is not accessible if you've made further modifications. Remove the custom ad blocker rule(s) and the page will load as expected.