Hosts
Keefe Brasselle (Pilot)
Bill Nimmo (Series)
Announcer
Johnny Olson
Broadcast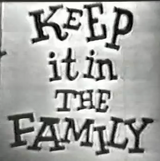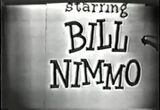 ABC Primetime: 10/12/1957 – 2/8/1958
Packager
Frank Cooper Productions
"The American Broadcasting Company presents...Keep it in the Family! Yes, it's Keep it in the Family with the happiest, scrappiest families in America and starring Bill Nimmo!"
Keep it in the Family was somewhat a precursor to Family Feud, except no survey questions.
A sort of forerunner of Family Feud, the game involved two five-member teams of families, each starting the game with 200 points. In each round, a prize was shown, after which the teams were given a category, and then alternated bidding for control. The difficulty of the question also increased with the amount of the bid. Bidding was played as an auction until one team either challenged their opponents or bid the 100 point maximum.
The winning bid team was then asked a five-part question, with the youngest members generally getting the easier parts and the older members getting the more difficult parts. When a family answered all five parts of the question correctly, they received the amount of their bid and the prize. But, if a team missed any part of the question, the amount of their bid was deducted from their score.
The game continued until one team scored 350 points and won the game. However, if a team's score fell below 100 points, that team automatically lost. The winners then faced a new family. All families kept whatever prizes they won during their stay, win or lose.
Inventors
Edit
Leonard Stern and Roger Price
Taping Location
Edit
New York City, NY
YouTube Videos
Edit