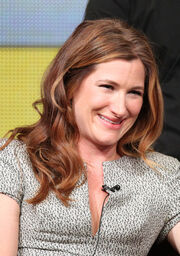 Kathryn Hahn (born July 23, 1973) is an American actress and comedienne. She began her career on television playing Lily Lebowski in the NBC crime drama series Crossing Jordan (2001—2007). Hahn went on to appear as supporting actress in a number of comedy films, including How to Lose a Guy in 10 Days (2003), Anchorman: The Legend of Ron Burgundy (2004), Step Brothers (2008), Our Idiot Brother (2011), We're the Millers (2013) and The Secret Life of Walter Mitty (2013).
As lead actress, Hahn starred in the 2013 comedy-drama Afternoon Delight directed by Jill Soloway. In 2016, she starred in the comedy film Bad Moms (2016). She also has appeared in a number of dramatic films, including Revolutionary Road (2008), This Is Where I Leave You (2014), Tomorrowland (2015), The Visit (2015), and Captain Fantastic (2016).
Ad blocker interference detected!
Wikia is a free-to-use site that makes money from advertising. We have a modified experience for viewers using ad blockers

Wikia is not accessible if you've made further modifications. Remove the custom ad blocker rule(s) and the page will load as expected.