Hosts
Cathy Rogers (1998-2001)
Robert Llewellyn (1998-2008)
George Gray (2001)
Tyler Harcott (2001-2002)
Karyn Bryant (2002)
Lisa Rogers (2002-2008)
Bobbi Sue Luther (2003-2004)
Rossi Morreale (2004)
Broadcast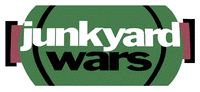 TLC: 12/27/2000 - 8/8/2004
Packager
RDF Media
Junkyard Wars was an engineering game show where teams of contestants have 10 hours in which to build a working machine that can do a specific task, using materials available in a scrapheap.

Based on the UK show Scrapheap Challenge by RDF Media.
George Gray hosted the syndicated half-hour format of the "Weakest Link".

He later became the permanent announcer for "The Price is Right".