Hosts
Alex McLeod (JM)
Samantha Harris (TNJM)
Broadcast (FOX)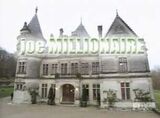 Joe Millionaire: 1/6/2003 – 11/24/2003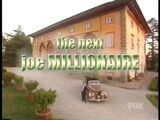 The Next Joe Millionaire: 10/20/2003 – 11/24/2003
Packager
Fox World
Joe Millionaire (and later The Next Joe Millionaire) was a short-lived reality show where women meet a person who's supposed to be a millionaire who got rich through an inheritance, though he really isn't. This puts true love to the test to see if real love really doesn't require material wealth.
British Version
Edit
An equally short-lived British version called Joe Millionaire UK hosted by Rebecca De Young along with bachelor Dominic Lijertwood aired on E4 from 27 November (November 27) 2003 to 1 January (January 1) 2004.
Catchphrase
Edit
"You must leave the chateau!"
David Vanacore

Official Website (via Internet Archive)
Article about the British version (courtesy of ukgameshows.com)