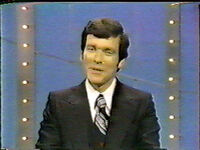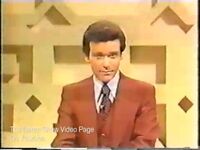 James Edward Peck (born June 5, 1943, in Milwaukee) is an American television host. He was a substitute host on The Joker's Wild and the full-time host on other game shows prior. In the mid-80s Peck hosted the venerable courtroom show Divorce Court, produced & distributed by Blair Entertainment & Storer Communications, the same ones that produced Break the Bank (3) and later Strike it Rich (2). These days he works in Public Relations for his alma mater, Marquette University, as a fund-raiser, and he hosts a local PBS TV show called I Remember (formerly I Remember Milwaukee).
Shows Hosted
Edit
Pilots Hosted
Edit
Smart Money (unsold 1975 pilot from Ron Greenberg for CBS)
The Waiting Game (unsold 1970s pilot from Hatos-Hall for ABC)
TV's The Game (unsold 1982 pilot/pitchfilm from Intermedia; Tom Dressen hosted the first pilot)
Chain Letters (unsold 1985 pilot from Barry & Enright; later developed into British game show)[1]
Hotline (unsold 1989 pilot from Fiedler/Berlin and MGM/UA, involving in-studio contestants trying to guess percentages of people who responded to surveys over the phone)
Suit Yourself (unsold 1990 pilot from Marty Pasetta for ABC, involving answering questions to acquire cards of the same suit)[2]
References
Edit
Ad blocker interference detected!
Wikia is a free-to-use site that makes money from advertising. We have a modified experience for viewers using ad blockers

Wikia is not accessible if you've made further modifications. Remove the custom ad blocker rule(s) and the page will load as expected.