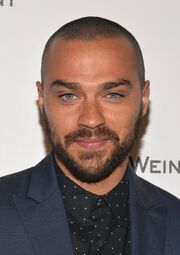 Jesse Wesley Williams (born August 5, 1981) is an American actor, model, and activist, best known for his role as Dr. Jackson Avery on the ABC Television series Grey's Anatomy. He also appears in the 2013 film Lee Daniels' The Butler as real life civil rights leader Rev. James Lawson. Previous roles include Holden in The Cabin in the Woods (2012), Officer Eddie Quinlan in Brooklyn's Finest (2009) and as Leo, Lena's boyfriend, in the film sequel The Sisterhood of the Traveling Pants 2 (2008).
Ad blocker interference detected!
Wikia is a free-to-use site that makes money from advertising. We have a modified experience for viewers using ad blockers

Wikia is not accessible if you've made further modifications. Remove the custom ad blocker rule(s) and the page will load as expected.