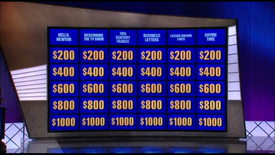 There have been several looks of the Jeopardy! board since 1964. From pull cards to flip cards to TV screens to one giant screen to individual TV screens again, the Jeopardy! board has always provided clues & dollars for unsuspecting contestants. Let's get down to the nitty gritty.
Art Fleming Era
Edit
1964-1975
Edit
1978-1979
Edit
1984-1991
Edit
1984-1985
Edit
1985-1991
Edit
Super Jeopardy!
Edit
1991-1996
Edit
1996-2009
Edit
2009-2013
Edit
2013-present
Edit
Ad blocker interference detected!
Wikia is a free-to-use site that makes money from advertising. We have a modified experience for viewers using ad blockers

Wikia is not accessible if you've made further modifications. Remove the custom ad blocker rule(s) and the page will load as expected.