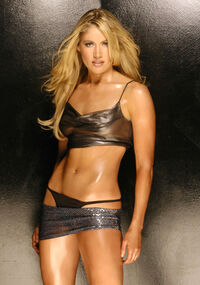 Jennifer Mosley Ryen is formerly one of the nationally acclaimed Barker's Beauties on CBS's The Price is Right. No Stranger to celebrity, Jennifer has spent most of her life in the public eye. Born and raised in Texas, she started early in her dance competitions and beauty pageants.
In her early teens, Jennifer won Miss Denton Teen USA and started making her way through the fashion industry. She found her self in print and magazine ads such as Seventeen and YM.
At only 18 years of age, Jennifer was crowned Miss Denton USA. While competing in the Miss Texas USA pageant, Jennifer ranked so high in the swimsuit competition that she began getting offers for swimsuit calendars and swimwear photo shoots. She as asked to appear as the cover girl for the Wild West Modeling Team calendar.
Next, the acclaimed model accomplished her dream of becoming a Dallas Cowboy cheerleader. That same year, Jennifer was chosen to appear on the cover of the world-renowned Dallas Cowboys cheerleader calendar and was featured several times inside the annual calendar as well. Her cowboy notoriety led Jennifer to be featured in a Nike commercial and country music videos.
Life in front of the camera agreed with Jennifer and success was definite. She co-hosted a hot reality dating game show for UPN titled Fantasy Match and after winning a national Baywatch search in her hometown of Texas, Jennifer as flown out to California to the set of Baywatch where she was featured in the #1 rated series.
To date, Jennifer has appeared in many commercials such as: Coors Light, Captain Morgan's, Mike's Hard Lemonade and numerous others. She was a guest on ABC's Emmy nominated TV talk show The View.
Thanks to a rotating schedule on The Price is Right, Jennifer continues to appear in independent films, television series and TV pilots today.
Show appeared
Edit
Show hosted
Edit
Fantasy Match
Ad blocker interference detected!
Wikia is a free-to-use site that makes money from advertising. We have a modified experience for viewers using ad blockers

Wikia is not accessible if you've made further modifications. Remove the custom ad blocker rule(s) and the page will load as expected.