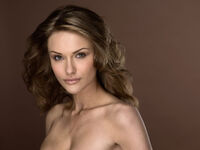 Jenelle Browyn Moreno was born and raised in sunny Southern California. At a very young age, she knew that she wanted to spend her career in front of the camera and was a natural at it right off the bat.
At the age of 15 she was discovered by a major Hollywood agent, and the very next day, booked an eight-page spread in Teen magazine.
From there, Moreno spent nearly every weekday in L.A., either working or going to auditions. That same year a powerhouse agent from Paris came out to meet her, and less than two months later she was on a plane, having graduated from high school, and on her way to Paris.
Moreno spent months working in Europe and eventually longed for a slower-paced lifestyle, so she went back home to take a break for a while.
After two years of missing the modeling world, she returned to L.A. with a vengeance and again, her first day back, booked the cover of Best Body magazine.
Since returning to the modeling world, Moreno has graced the covers of five magazines, started up her website (which you can see at the bottom of this page), appeared in numerous national ads including: Kawasaki motorcycles, was featured in an eight-page spread for FHM Spain and in the music video for Maroon 5 and Under the Influence of Giants, traveled to Europe amny times fo work and of course has been case model #17 on DOND for four seasons. Moreno can also add lingerie powerhouse Fredericks of Hollywood to her resume, as she has been booked as their new spokesmodel.
When she's not working or flying around the world, you'll find her at the gym, out shopping, or just at home outside of Los Angeles, relaxing and enjoying the beautiful weather.
Show appeared
Edit
Ad blocker interference detected!
Wikia is a free-to-use site that makes money from advertising. We have a modified experience for viewers using ad blockers

Wikia is not accessible if you've made further modifications. Remove the custom ad blocker rule(s) and the page will load as expected.