Host
Jeff Ross
Referee
Brian Moses
Broadcast
Comedy Central: 7/28/2016-present
Packagers
Enough with The Bread Already Productions
Roast Battle S1
Tenth Planet Productions
Thruline Entertainment
Jeff Ross Presents Roast Battle (or Roast Battle for short and later retitled as Jeff Ross Presents Roast Battle II: War of the Words in season 2) is four-episode only reality competition series that's was inspired by the gritty, competitive proving grounds of the comedy club circuit.
The series is a bracket-style, insult comedy Thunderdome event featuring the world's most venomous comedians in one-on-one standoffs, with an all-star panel of judges deciding their tournament fate.
The series was taped for four nights at the Just for Laughs festival in Montreal, Canada. The first three episodes of the four-part series will air day-after-tape on July 28 thru July 30 at 10 p.m. ET/PT while the July 31st finals will air live on the same day.
The first episode of the show was called Road to Roast Battle which originally aired on July 25, 2016.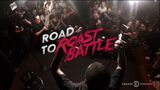 Before becoming a competitor for this show in season 1, Jimmy Carr was the host of Distraction for which it aired on the same network as this show from 2005 until 2006.
In season 2, the title "War of the Words" is a spoof of the novel and film "War of the Worlds".