Host
Yoshi
Judge
Masa
Other Judges
Shinobi
Ninjas
Broadcast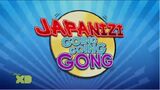 Disney XD: 11/4/2013 - 11/29/2013
Packager
Marblemedia
Distributor
Distribution 360
Japanizi: Going, Going, Gong! is a Japanese-styled kids game show that delivers widly entertaining physical humor and slapstick mayhem.
The series is an adaptation of I Survived a Japanese Game Show (originally titled Big in Japan), created by David Sidebotham. Contestants compete with a teammate against other teams as they tackle obstacles and challenge to test their mental capabilities, strength, endurance and smarts. 
The studio-based kids game show will make use of zany costumes, conveyor belts, dizzy chairs, giant fans and velcro walls with themed competitions and more. The Japanese language is mostly incorporated with the show. However, it is mostly in English.

The series airs internationally on YTV and VRAK both in English and French languages.
Other Verison
Edit
I Survived a Japanese Game Show!—the show's adult counterpart originally airing on ABC from 2008 until 2009.
Disney XD's Official site
Production website
Japanizi's Info Page
Information about the series
Official Facebook Page
Ad blocker interference detected!
Wikia is a free-to-use site that makes money from advertising. We have a modified experience for viewers using ad blockers

Wikia is not accessible if you've made further modifications. Remove the custom ad blocker rule(s) and the page will load as expected.