Host
Bill Leyden
Announcers
Wendell Niles
Jay Stewart
Broadcast (NBC)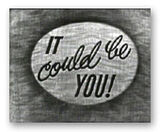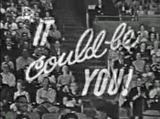 Daytime: 6/4/1956 - 12/29/1961
Primetime: 7/2/1958 - 9/17/1958, 9/27/1958 - 3/12/1959, 9/5/1959 - 1/23/1960, 6/7/1961 - 9/27/1961
Packager
Ralph Edwards Productions (Capricorn Productions)
It Could Be You! was a game show that involved members of the studio audience participating in different stunts and surprises. Additionally, reunions were frequent events on the show as well.
Usually, three contestants were brought on stage and were given a series a clues to help them guess the identity of a famous person related to one of the contestants. the person was located behind a curtain.
Visits by celebrity guests were another feature on the show and comedian Bob Hope paid a visit on the first broadcast.
The show was originally hosted by Bill Leyden who had emceed the Los Angeles segment of Today in the 1950s. In November 1960, Wendell Niles filled in as host and Jay Stewart as announcer.
The show returned to NBC's primetime schedule four times between 1958 and 1961 frequently as a summer replacement.
This show is sometimes considered a satire of Queen for a Day.
It Could Be You @ Ralph Edwards Productions official Website
YouTube Videos
Edit
Full Episode
Edit
Ad blocker interference detected!
Wikia is a free-to-use site that makes money from advertising. We have a modified experience for viewers using ad blockers

Wikia is not accessible if you've made further modifications. Remove the custom ad blocker rule(s) and the page will load as expected.