Host
Dave Cox
Broadcast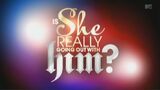 MTV: 6/8/2009-12/10/2010
Packagers
BermanBraun
Tijuana Entertainment
Is She Really Going Out with Him? was a comedic, reality dating series that aims to tear down the mystery behind pop culture's latest unexplainable phenomenon - beautiful and innocent young sweethearts who fall victim for self-absorbed, overly-tanned, tattoo-covered tools.
(Keep in mind that this should not be confused with a popular Joe Jackson song from 1978 of the same name)

After scouring the country for the most fertile bad boy breeding grounds, the show investigates every variety, each with their own language, lifestyle, and over-the-top persona. Using the comedic viewpoint of our narrator, each episode will break down one relationship, focusing in on the self-absorbed dude and the girl who inexplicably loves him. along the way, our leading lady is armed along with the helping hand and guidance of her loyal BFF (Best Friend Forever) but in the end she will ultimately have to make her own fateful decision. Will she stay with her bloke of a boyfriend or tear loose and move on to a better man?
Before starring in Jersey Shore, Snooki has appeared in one episode of the series.
Inspired by the popular website called "Hot Chicks with Douchebags".
Ad blocker interference detected!
Wikia is a free-to-use site that makes money from advertising. We have a modified experience for viewers using ad blockers

Wikia is not accessible if you've made further modifications. Remove the custom ad blocker rule(s) and the page will load as expected.