Hosts
Clifton Fadiman (1938–August 1952)
John K.M. McCaffery (August–September 1952)
Broadcast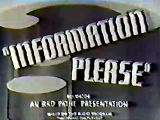 NBC Radio (Weekly): 5/17/1938 – 4/22/1951
CBS Primetime: 6/29/1952 – 9/21/1952
Packager
Dan Golenpaul Productions
Information, Please! was a panel game show created by Dan Golenpaul where the panel tried to answer questions posed by the American public.
Everyday people sent questions to the show. If they were used, they received a small prize. If the panel couldn't come up with the correct answer, the person would receive a bigger prize.
For the first few shows, the award for a used question was $2, and if the questions stumped the panel, they received an additional $5. These were later increased to $5 and $10, respectively. Within months, a complete Encyclopedia Britannica was added to the prize for stumping the panel. Finally, the cash awards increased to $10 and $25, respectively.
The prize for questions that stumped the panel was paid from a budget furnished by the show for that particular broadcast; a cash register ring indicated that the money was gone from that budget. At the end of the broadcast, any money left in the budget was divided by the panelists.
Canada Dry (when the cash awards grew for the first time)
Lucky Strike cigarettes (when the cash awards increased again)
HJ Heinz (during majority of World War II)
Mobilgas (early post-war years)
Various (rest of run)
Production Location
Edit
New York City, NY
The CBS version aired live on Sunday nights.
From 1939-42, various episodes of the radio version were filmed for showing in theaters. At least one of these is known to exist, providing the earliest known visual recording of a game show.
During World War II, the show frequently went on tours from its New York City base to promote the buying of war bonds. Instead of the usual cash prize, the question writer would win a bond.