Host
Danny Bonaduce
Broadcast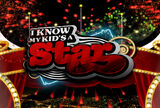 VH1: 3/20/2008 - 5/8/2008
Packager
3 Ball Productions
I Know My Kid's a Star
was a short-lived reality entertainment competition where ten child-star wannabes along with their parents competed for a chance to win $50,000 along with a one-year contract with a real-life Hollywood agent.
The parents and their children live together in a house. Week to Week, the teams work on various performance-related challenges. The show itself consisted of eight episodes only, with one team sent home at the end of each episode. The parent/child team that wins the final competition is awarded $50,000 and a one-year contract for the child with a Hollywood agent.
International Verison
Edit
An Australian version of the show also featuring Bonaduce as a judge under the name My Kid's a Star hosted by Cameron Daddo aired on the Nine Network from April 9, 2008 until May 31, 2008.
The all-time winners of this short-lived series were Shannon and McKenzie Knapps.
Official Website
I Know My Kid's a Star @ 3 Ball Producions website
Ad blocker interference detected!
Wikia is a free-to-use site that makes money from advertising. We have a modified experience for viewers using ad blockers

Wikia is not accessible if you've made further modifications. Remove the custom ad blocker rule(s) and the page will load as expected.