Voice-Over Hosts/Executive Producers
Tom Crehan and Dale Roy Robinson
Broadcast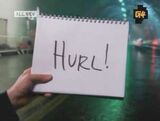 G4: 7/15/2008-9/14/2008
Pacckager
Comcast Entertainment Group
Hurl! was a competitive eating reality show with a twist, brave contestants consume massive portions of all-American favorites and are then strapped into nausea-inducing contraptions designed to shake them up.
The competition consist of multiple rounds beginning with a speed-eating contest that features popular foods ranging from chicken pot pie to New England Chowder, tuna casserole, hot dogs, blueberry pie and more. In the second round, contenders that ate the most in round one move on to a physical challenge design to cause even the strongest stomachs to rebel including, carnival rides, mechanical bull riding, and sumo wrestling. After the first two rounds, those who have been able to hold their stomachs in check are sent back for another round of eating where they must chow down on additional serving of a new menu item. The top eaters then advance to another round of the physical challenge which also includes a surprise twist that makes holding down ones food especially difficult. The winner of the days events who has eaten the most and has also managed to keep it all down receives the coveted "Iron Stomach" award.
Ad blocker interference detected!
Wikia is a free-to-use site that makes money from advertising. We have a modified experience for viewers using ad blockers

Wikia is not accessible if you've made further modifications. Remove the custom ad blocker rule(s) and the page will load as expected.