Host
Mark Sweet
Announcer
Rod Roddy
Broadcast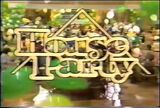 Unsold Pilot for CBS: 1/1983
Packager
Little Joey Productions
MARK: Is everybody ready?
AUDIENCE: YES!
MARK: OK! On the count of three, I want you to break your balloons. Here we go.
AUDIENCE/MARK: 1, 2, 3!
(SOUND OF BALLOONS POPPING AFTER THE COUNTDOWN)
ROD: Welcome to Mark Sweet's House Party, a daily celebration, where happiness is no illusion and everyone's a winner!
Mark Sweet's House Party was an unsold attempt at reviving Art Linkletter's House Party.
CBS Television City (Studio 41), Hollywood, California
YouTube Links
Edit