Host
Mark Scott
Umpire
Art Passarella
Broadcast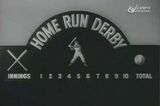 Syndication: 4/1960 – 10/1960
Packagers
Homer Productions
ZIV Television
Home Run Derby was a short-lived syndicated series featuring top baseball players competing in a home-run hitting contest.
Each week two professional baseball players competed in a nine-inning contest, Hitting against batting practice pitchers, the players tried to hit home runs. Any ball not hit out of the park was an out and each player was allowed three outs per inning, Players who hit three consecutive home runs won an extra $500 (a fourth straight home run earned another $500 and each additional one beyond that earned $1,000). With the winner returning one the next show to take on another challenger.
Some nineteen players participated in the show such as Hank Aaron won six times and collected $13,500. Mickey Mantle won four times and collected $10,000. Other players who competed on the show were: Willie Mays, Ernie Banks, Jackie Jensen, Harmon Killibrew, Rocky Colovito, Frank Robinson and Duke Snider. Prior to this, Jackie Jensen hit the most home runs in one game. With fourteen and the most consecutive, with five in a row. Hank Aaron, Baseball's all-time leasing home run hitter with 755 career home runs managed only nine home runs.
Believe it or not, there were two Wrigley Fields that were both owned by William Wrigley. One was in Chicago, IL and was home to the Chicago Cubs while the other was in Los Angeles, CA where the show was taped, and where the Pacific Coast League's Los Angeles Angels played their first three seasons. The Los Angeles Wrigley Field was demolished in the 1960s.
Trade Ads
Edit