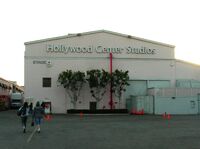 Hollywood Center Studios (later Sunset Las Palmas Studios) is a television studio located at 1040 North Las Palmas Boulevard in Hollywood, California. Other than sitcoms and other television shows, Hollywood Center Studios has been home to several game shows.
Shows Taped at Hollywood Center Studios
Edit
Here are a list of game shows that were/are taped at Hollywood Center Studios:
Ad blocker interference detected!
Wikia is a free-to-use site that makes money from advertising. We have a modified experience for viewers using ad blockers

Wikia is not accessible if you've made further modifications. Remove the custom ad blocker rule(s) and the page will load as expected.