Host
Tanya McQueen
Broadcast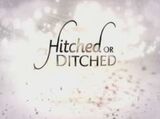 The CW: 5/26/09-6/30/09
Packagers
Next Entertainment
Warner Horizon Television
Zodiak USA
Hitched or Ditched
was a short-lived reality show where longtime unwanted couples accept the challenge to get married in one week's time or end their relationship.
In this original one-hour reality show, couples in long-term relationships who have not yet taken the final leap into wedding bliss will be nominated by a friend who believes it's time for the couple to make their decision: either tie the knot or call it quits. The challenge takes place over seven days leading up to the couple's dream wedding. Over the course of one week, special exercises will push the relationship to the limit as the couple confronts issues like jealousy and strained relationships with future in-laws, all the while planning the wedding of their dreams. When the big day arrives, the couple will have to make the final decision: will they ditch their relationship or get hitched?
Host Tanya McQueen is known for being an interior designer on ABC's Extreme Makeover and Extreme Makeover: Home Edition.
The show was announced on October 13, 2008 that The CW had ordered six episodes of a new wedding-themed reality series from RDF USA and The Bachelor producer Mike Fleiss, under the working title "For Better or Worst". On April 6, 2009 the network announced the show will premiere during the summer on Tuesday nights, May 25 at 9/8c after the season finale of Reaper.
Ad blocker interference detected!
Wikia is a free-to-use site that makes money from advertising. We have a modified experience for viewers using ad blockers

Wikia is not accessible if you've made further modifications. Remove the custom ad blocker rule(s) and the page will load as expected.