Host
Keri Murphy
Broadcast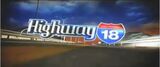 The Golf Channel: 7/22/08-present
Packager
Winnercom Inc.
Highway 18 is a reality game show where it features five teams of twosomes racing against each other in a series of challenges to complete a "Clubhouse Challenge" allowing them to move to the next round.
Each week, five teams are given clues to a location to which they must all race. On arriving, they will have a challenge that will test one part of their golf game. Once they complete this mini-challenge, they will be given clues to their next location where this could be another test, a quiz or the Clubhouse Challenge.
Clubhouse Challenge
Edit
The final showdown each week is the Clubhouse Challenge where the teams must play a hole, either both playing or alternating strokes and complete the hole as quickly as possible. Once the hole is complete, they must rush back to the Clubhouse and retrieve a golf ball. The team who arrives last will lose that challenge and losing that challenge once will give the team a strike, but losing a second time will be the end of the road for that team.
Ad blocker interference detected!
Wikia is a free-to-use site that makes money from advertising. We have a modified experience for viewers using ad blockers

Wikia is not accessible if you've made further modifications. Remove the custom ad blocker rule(s) and the page will load as expected.