Hosts
Jack Linkletter (Primetime)
Fred Robbins (Daytime, 1958-February 1959)
Dennis James (February-June 1959)
Announcer
Bill Wendell
Broadcast (NBC)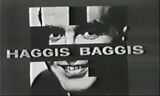 Primetime: 6/20/1958 – 9/28/1958
Daytime: 6/30/1958 – 6/19/1959
Packagers
Rainbow/Joe Cates Productions
Haggis Baggis was the picture & word game show where contestants raced to win a choice of two prize packages.
Two contestants faced a game board with five categories & five letters. They surround sides of a hidden picture which was always of a famous face. The host announced a category and one of the letters. Then the player in control must come up with a word or phrase that fits the category. For each acceptable answer given, a piece of the picture connected to the category & letter was revealed. When a signal sounded at some point during the game, the game continued with one player choosing a category and the opponent choosing a letter and then an answer which fit both criteria. The first player to solve the picture won the game and became champion. In the event that either contestant would make a mistake on the picture, the game automatically went to the opponent. After the game, each contestant secretly selected which prize package to win; they were dubbed "Haggis" & "Baggis". If their choices don't match, both contestants won their chosen prizes; if they do match, only the winning contestant got the selected prize.
The format of picking a category, picking a letter, and giving an answer came back as a bonus game on the failed Bob Stewart pilot Get Rich Quick! and as part of the main game on the failed Reg Grundy pilot Matchmates. It also came back as a board game in 1967 called Facts in Five.
YouTube Videos
Edit
A full Dennis James episode from February 18, 1959:
Part 1
Part 2
Part 3
Intro from the above show
Ad blocker interference detected!
Wikia is a free-to-use site that makes money from advertising. We have a modified experience for viewers using ad blockers

Wikia is not accessible if you've made further modifications. Remove the custom ad blocker rule(s) and the page will load as expected.