Host
Jamie Durie
Broadcast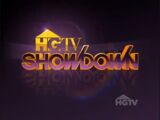 HGTV: 8/3/2009-Present
Packager
Pie Town Productions
HGTV Showdown is a reality competition series where it pits two design teams against each other as they makeover staged replicas of a home disaster.
Teams have only four hours to design a new space and execute that vision. but they are given access to a warehouse of supplies, furniture and materials.
Ad blocker interference detected!
Wikia is a free-to-use site that makes money from advertising. We have a modified experience for viewers using ad blockers

Wikia is not accessible if you've made further modifications. Remove the custom ad blocker rule(s) and the page will load as expected.