Host
Jarod Miller
Judges
Wendy Diamond
Allan Reznik
Victoria Stilwell
Broadcast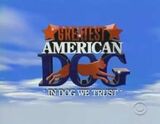 CBS: 7/10/2008 - 9/10/2008
Packagers
Actual Reality Pictures
Magic Molehill Productions
Triage Entertainment
Greatest American Dog was a short-lived reality show where twelve dogs and their owners compete in challenges for a grand prize of $250,000 with one pet and trainer being eliminated each week.
Twelve extraordinary teams of dogs and their owners from across the nation from "pageant dogs" to those simply trained at home, will live together and compete against each other challenges that put their owners' ability to train their dogs to the test. Each week, the judges will eliminate one dog and their owner. The last remaining team will walk away with a $250,000 cash prize and the title of "Greatest American Dog".
The show lasted for exactly 2 months.
Ad blocker interference detected!
Wikia is a free-to-use site that makes money from advertising. We have a modified experience for viewers using ad blockers

Wikia is not accessible if you've made further modifications. Remove the custom ad blocker rule(s) and the page will load as expected.