Hosts
Stacy Ferguson, Stefanie Ridel & Renee Sands (Wild Orchid)
Broadcast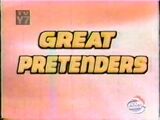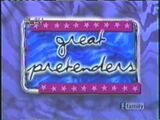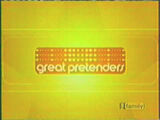 FOX Family Channel: 1999-2001
Great Pretenders (not to be confused with the 1955 and its 1987 remake hit song by The Platters and the late Freddie Mercury [of Queen fame] respectively as The Great Prentender) was a half-hour musical game show in which young performers lip-sync to pop hits. On this program contestants lip sync and dance to their favorite songs for the chance to win prizes as their performances are judged by a live studio audience. The one with the most votes is inducted as the top "great pretender".

The program's slogan is, "They're the greatest singers...They're the greatest dancers...They're the greeeeat pretenders!".
Hosts Stacy Ferguson, Stefanie Ridel and Renee Sands were once better known as the now defunct pop group called Wild Orchid.
Stacy Ferguson (better known as "Fergie") is a member of the musical group called The Black Eyed Peas though occasionally she performs as a solo act.
Similar Shows
Edit
Puttin' on the Hits
Puttin' on the Kids
Lip Service
Lip Sync Battle
Ad blocker interference detected!
Wikia is a free-to-use site that makes money from advertising. We have a modified experience for viewers using ad blockers

Wikia is not accessible if you've made further modifications. Remove the custom ad blocker rule(s) and the page will load as expected.