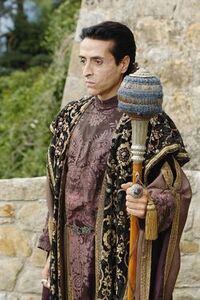 The Grand Vizier is the secondary antagonist from the tv show The Quest.
Same if he was seem to be friendly at first, he seem to enjoyed when some of the paladins are banished, he do not treated the paldins has honored guets. He also appear every time something bad happen, that make also the paladins lose their trust in him, later he seem to be traitor revealed he was working Verlox all the time.
Show appeared
Edit
The Quest (2014)
Ad blocker interference detected!
Wikia is a free-to-use site that makes money from advertising. We have a modified experience for viewers using ad blockers

Wikia is not accessible if you've made further modifications. Remove the custom ad blocker rule(s) and the page will load as expected.