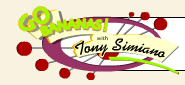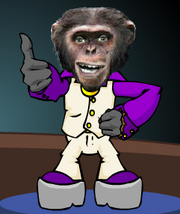 OPENING SPIEL: (after intro) And now,/It's time for the only game show who (insert funny comment), TONY SIMIANO!
Go Bananas! was a short lived online interactive game show on Nick.com. The show only aired online for 13 episodes.
Broadcast
Edit
Nick.com 2001
Tony Simiano
Announcer
Edit
Johnny O'Really
For the first five episodes, Johnny would call today's contestant on down. For the rest of the other episodes, Tony would introduce today's contestant. The player on the computer has to play today's game to help the studio contestant. If he/she does the game correctly, then he/she and the studio contestant win the game.

Theme Song: Milo G and the Primates
Contestant Walkdown- Milo G and the Primates
Concentration- Milo G and the Primates
Other cues used were also performed by Milo G and the Primates
The items that were bought for commercial consideration and characters in this game are completely fictitious and not real.
"Well folks, that's all the time we have today! But be sure to tune in next time with me, Tony Simiano, on GOOOOOOOOOOOOOOOO BANANAS!" - Tony Simiano
Ad blocker interference detected!
Wikia is a free-to-use site that makes money from advertising. We have a modified experience for viewers using ad blockers

Wikia is not accessible if you've made further modifications. Remove the custom ad blocker rule(s) and the page will load as expected.