Host
Walter Bond
Broadcast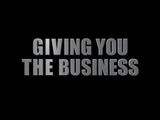 Food Network: 4/25/2013-6/13/2013
Packager
Cineflix
On Giving You the Business, CEOs give employees a shot at running their own food franchise, but first the candidates are unwittingly put through a series of tests to determine who is most deserving of the opportunity.
Each week, four standout employees are handpicked by their CEO and secretly put to the test in a series of outrageous challenges designed to gauge their skills with hidden cameras capturing their every move. The strongest candidate will walk away with the keys to his/her very own franchise worth up to half a million dollars ($500,000).
Ad blocker interference detected!
Wikia is a free-to-use site that makes money from advertising. We have a modified experience for viewers using ad blockers

Wikia is not accessible if you've made further modifications. Remove the custom ad blocker rule(s) and the page will load as expected.